NEWS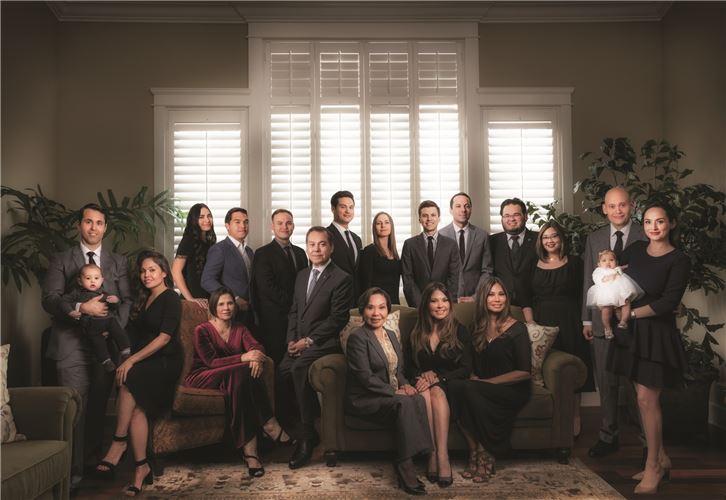 All In the Family
The Hunt family's support of Torrance Memorial Medical Center is three generations in the making. It's where Donald George Hunt received care before he passed away at age 96. It is where two of his grandsons were born and where his daughter-in-law was a longtime employee. The sister of Donald's wife, Priscilla, also received cancer treatments there.
To say thanks for decades of compassionate care, this past fall, Priscilla Hunt announced a $22 million gift to help fund the renovation of the North Patient Tower—renamed the Donald and Priscilla Hunt Tower. The Hunt family gift will also go toward funding advancements at the Radiation Oncology department, renamed the Donald and Priscilla Hunt Radiation Oncology Center.
The Hunt family's total financial commitment to Torrance Memorial now stands at $34 million—the second largest family gift in the more than 90-year history of the medical center.
"As one of 10 children, I learned the importance and grace of sharing. We had one doll, whose eyes opened and closed, and we shared that single doll. I haven't forgotten those lessons and pass them along to my children and grandchildren," says Priscilla, who emigrated from the Philippines to the United States in 1953 and seven years later became an American citizen. "Sharing our good fortune so others receive the wonderful care Torrance Memorial has provided our family was as natural as sharing that single doll in my youth."
Priscilla's late husband, Donald, founded South Bay-based Hunt Enterprises, a real estate company whose portfolio includes more than 4,000 residential units, industrial buildings, shopping centers, storage facilities and a 39-acre shipping container transfer facility in the Port of Los Angeles.
"Fueling the spirit of giving is what our contribution to Torrance Memorial is all about. For our family, it's growing up around the values of giving back and demonstrating those values through action," says Ryan Moore, Priscilla's grandson, who was born at Torrance Memorial. Ryan is the former Los Angeles scholarship chapter chairman at his alma mater, the University of Southern California (USC).
As part of their gift, the Hunt family funds TrueBeam™ technology used in the Hunt Radiation Oncology Center. TrueBeam is a linear accelerator that helps zero in on tumors, while sparing healthy tissue. This advanced technology allows patients to stay in the South Bay instead of going out of the area for technological options to target tumors more precisely. Torrance Memorial is the first hospital in the South Bay to have a TrueBeam system.
"We are truly inspired by the generosity of the Hunt Family. They are transforming services for our community through this gift and in doing so setting an example for others in their position to give back," says Craig Leach, president and CEO, Torrance Memorial Medical Center. "We are humbled and grateful to the Hunts for helping further our mission of providing the highest level of care to the South Bay."
Gift Will Help Elevate South Bay Health Care
The renovation of the renamed Donald and Priscilla Hunt Tower is designed to improve the quality of service patients receive. Upon completion, the tower will feature updated technologies, as well as new postpartum mother baby (already completed), pediatric and the level III neonatal intensive care (NICU) units.
The whimsically designed pediatric unit will consist of 15 private rooms, including two negative pressure isolation rooms to prevent the spread of airborne diseases. Sharing the floor will be an eight-bed medical/surgical unit to be utilized by the medical stabilization program at Torrance Memorial Medical Center, which provides acute care services for adolescents and young adults (ages 13-35) experiencing medical complications as a result of a severe eating disorder.
The NICU will consist of 24 private rooms, and one additional larger room designed for the treatment of infants requiring critical care and multiple treatment modalities. All rooms will feature state-of-the-art technology, including Panasonic NICVIEW Camera Systems to allow parents to watch their babies 24/7 with a computer, tablet or smart phone from any location that has an internet connection.
In addition to these units, the Tower houses a 40-bed transitional care unit on the first floor, and a 32-bed private medical-surgical unit with the most advanced equipment and contemporary furnishings for adult medical patients.
Construction to Begin on Hunt Cancer Center
In May, Torrance Memorial Medical Center will begin construction on the two-story Hunt Cancer Center, with an official groundbreaking on June 20. The center will centralize Torrance Memorial's existing cancer treatment services to one location, including its nurse navigators, genetic counseling services, clinical research trials to be conducted in partnership with Cedars-Sinai, and infusion and chemotherapy. It will also relocate Torrance Memorial Physician Network-Cancer Care medical group from its Redondo Beach office to the medical center's main campus.
Once completed, the center will offer 70 patient parking spaces underneath the building. With a more convenient patient experience as the goal, patients will be able to ride an elevator from the parking lot to the main and second levels, to reach the location of their scheduled service or appointment.